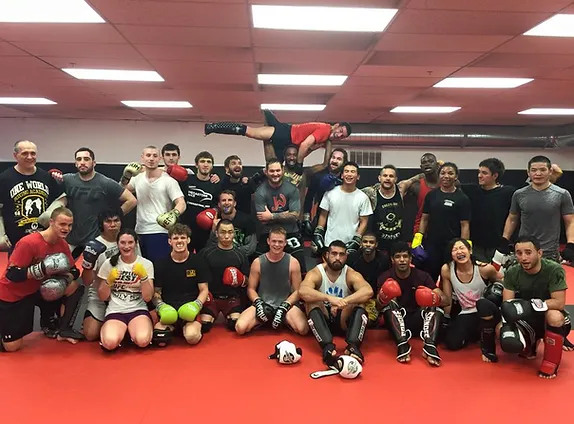 Live with fighters, train with fighters, be like a fighter the ultimate MMA fan experience like no other.
About Jackson Wink MMA Adventures
Participants of the Jackson Wink MMA Adventure will embark on an immersive training experience that covers a wide range of martial arts disciplines. The program offers an extensive selection of training options, ensuring that participants receive a comprehensive and well-rounded education in martial arts.
MMA Disciplines Covered In The Jackson Wink MMA Adventure Include:
Brazilian Jiu-Jitsu: Participants will have the opportunity to dive into the intricacies of Brazilian Jiu-Jitsu, a grappling-based martial art that focuses on ground fighting techniques. Under the guidance of highly skilled instructors, participants will learn the fundamentals of submissions, escapes, and positional control, developing a solid foundation in this discipline.
Muay Thai: The program also includes training in the art of Muay Thai, a striking-based martial art known for its powerful strikes and efficient use of knees, elbows, and clinching techniques. Participants will learn proper striking techniques, footwork, and defensive maneuvers, honing their skills in the stand-up aspect of MMA.
Wrestling: Wrestling, a crucial component of mixed martial arts, is another discipline emphasized in the program. Participants will receive expert coaching in wrestling techniques such as takedowns, throws, and grappling on the mat. This training will enhance their ability to control opponents, dictate the pace of a fight, and defend against takedowns.
Strength and Conditioning: Recognizing the importance of physical fitness in MMA, the Jackson Wink MMA Adventure incorporates dedicated strength and conditioning sessions into the training regimen. Participants will engage in workouts specifically designed to improve their overall strength, endurance, agility, and explosiveness, enhancing their physical capabilities for optimal performance in the octagon.
Coaches And Training Excellence
At the Jackson Wink MMA Academy, participants will be privileged to train under the guidance of world-class coaches and trainers who possess a wealth of experience and expertise. These coaches have a proven track record of producing successful fighters and are renowned within the MMA community for their ability to nurture talent and maximize potential. Through their mentorship and personalized instruction, participants can expect to receive top-tier training that caters to their individual needs and goals.
Exploring Albuquerque
In addition to the rigorous training sessions, the Jackson Wink MMA Adventure offers participants the chance to immerse themselves in the vibrant city of Albuquerque and its surrounding areas. Participants will have the opportunity to explore popular tourist attractions, soak in the local culture, and indulge in the diverse culinary offerings that Albuquerque has to offer. This allows participants to experience the unique charm and atmosphere of the city, making their visit an enriching and memorable experience both inside and outside the gym.
Live MMA Events
A highlight of the Jackson Wink MMA Adventure is the opportunity to attend live MMA events. Participants will witness high-level MMA fights, immersing themselves in the electrifying atmosphere and gaining inspiration from the world's top fighters. They will have the chance to observe the techniques they have learned in action, learn from seasoned professionals, and deepen their understanding of the intricacies of the sport.
Included Features
The Jackson Wink MMA Adventure package comes with a variety of additional features and benefits, ensuring participants receive a truly exceptional experience.
Some of the included features are:
Living in the Dorm Rooms with Pro and Amateur MMA fighters from around the world, fostering a sense of camaraderie and allowing for valuable interactions and shared experiences.
Access to the Amateur MMA Program, offering participants the opportunity to cross-train with seasoned professionals and sharpen their skills in a competitive environment.
One-on-one training sessions with Coach Jackson or Coach Winkeljohn, providing participants with personalized guidance and mentorship from two of the most respected figures in the MMA community.
Private sessions focused on striking, grappling, and wrestling, allowing participants to receive specialized instruction in specific areas of their choosing.
Exclusive front-row seats to observe high-level professional training, enabling participants to witness.
Train Like a Champion from
Anywhere in the World.
The new Jackson Wink Training App gives you elite-level training and nutrition systems designed by world champion fighters and coaches.
Join Our Rostor
Train With The Best.
When training at Jackson Wink MMA Academy you are constantly surrounded by professional athletes and world-class coaches. The Academy attracts top-level fighters from around the world, which means that there is always someone to train with who can push you to your limits and help you improve.
Why We're Special
Jackson Wink MMA Academy is considered one of the best mixed martial arts (MMA) training facilities in the world. Head coaches Greg Jackson and Mike Winkeljohn have trained and cornered some of the top fighters in the sport, including Jon Jones, Georges St-Pierre, and Holly Holm, among others.
Our Facility
Our main training location in Albuquerque, New Mexico is a 30,000 square facility equipped with everything a fighter needs to train and prepare for a fight. Our gym includes a full-size octagon, lots of heavy bags, wrestling mats, a strength and conditioning area, cardio area, pro shop, and more.